FALL IN LOVE WITH YOURSELF, 2013
Art Verona, Independents with Sponge Arte Contemporanea
Wearing a mask made of mirror, I
FINCHE' AVRO' FIATO, 2012
galleria Oltredimore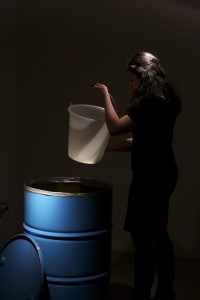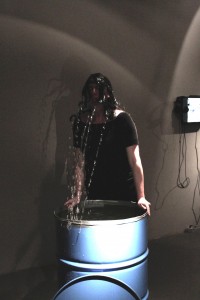 Digging my head inside a barrel filled with water I sang the Italian National Anthem
LOVE PRESERVATION, 2010
Performance realized with my partner the pianist Daniele Pozzovio. I collected as a fetish the everyday items of our sentimental relationship preserving them in the aim of preserving our relationship from the influence of time.
We became ourselves the fetishes and we start to enveloppe our bodies in a hug with the transparent plastic film as we are a big piece of meat to put in the refigerator.We try to stop time and to preserve our hug, our bodies, our love forever.
I AINT SUPERSTITIOUS, 2009
A bride dressed with old newspapers gets into the church.
she is alone none will take her to the altar and none is waiting for her.
Concentrated and secure she starts walking on the mirrors that sobstitute the carpet on her way to the altar crashing them under her high heel shoes.
The title "I ain't superstitious" (as the blues song) is ironic.
Everything is about culture, religion, tradition and superstition.
Our society is suffering of identity crisis. we are not able anymore to recognize our own roots and culture,
We need sometimes to crash our traditions but doing it without recognizing our origins can be dangerous, and we might crash ourselves, as the bride in the video that is crashing not only the mirrors but her own image reflcted under her feet.